Almost didn't get out today, but I am so glad that we did. For some reason when you have a new baby, it seems to take twice as long to get ready to go anywhere than before. But my Christmas money was burning a hole in my pocket and today was John's off day, so we decided to venture out. First we went to
Kohl's
to return some clothes that were the wrong size. John found a bunch of stuff and ended up with some new shirts, new khakis and a whole truckload of socks. Now if I can just convince him to throw away all the worn out holey ones.
After finishing up at Kohl's we headed over to
Hobby Lobby
. Shopping here is not exactly John's idea of a good time, so he and Natalie napped in the car. I had several great surprises when I got inside. Just minutes after I walked in, they announced over the intercom that for the next 15 minutes, all Christmas merchendise would be 80% off. I was already looking over the leftover scrapbooking stuff. I went crazy! I got over $100 worth of stuff for $24. Here's my Christmas stash.-----> It consists of three huge embellishment kits, a tag kit, bunches of rolls of ribbon and four other small packs of embellishments.
And that's not all! Once I purchased that stuff, I headed back to the regular scrapbook area, and to my surprise, discovered that Hobby Lobby is now carrying
Autumn Leaves
stamps AND they are 50% off this week. They also had their storage boxes and Spare Parts embellishments on sale, so here's the rest of my purchase. They have a really good 50% off sale going on this week, so if John and Natalie hadn't of been waiting in the car, I probably eould have done a lot more damage than I did. Thanks Alan and Kelli for my Gift Card, I used it all up today! When I left there, I gave Telah a call to tell her they were carrying Autumn Leaves. Before the store closed tonight, I think between
Telah
,
Heather
, and our friend Amy C, they are now out of stock!
Then when we got home tonight, guess what was on my front doorstep?
This thing!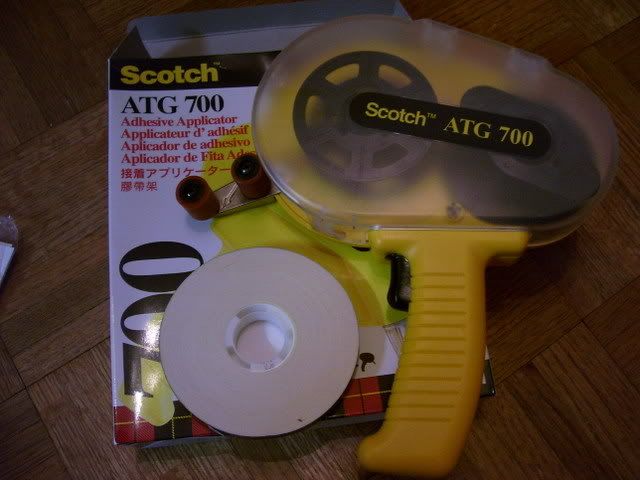 I first heard about this awesome tape runner from Amy's Blog. Then after one of my posts asking about adhesive, another blog buddy, Jolene recommended it to me. Wow, this thing is huge! I have a crop with friends on Friday night, and I can't wait to use it. I'm so glad I've "met" these scrappy ladies, becuase both of them are so creative and always have good ideas and products to share.
Well I'm headed to bed, tomorrow is my first day back at work. While I am only going back part time and also going to be able to work from home, I do have to go into the office in the morning for a little while to meet with the powers that be and discuss the details of my 'work from home' position. Here's one last picture for my non-scrappy friends and family. Isn't daddy so cute with his girl? The light from the lamp made this picture look really neat to me.