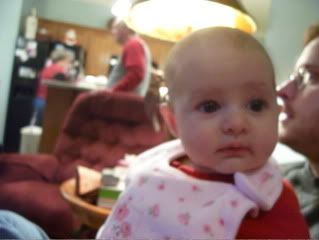 Wow it seems like my Christmas recap has gone on forever. Two and a half hours befor 2007 and I'm trying to get my last post of the year in! Chrisrmas morning was a fairly easy going morning. We didn't have anywhere to be until noon. We headed over to my Aunt Carolyn's house for lunch with family and a game of dirty Santa. I should have taken more pictures, but here's one of Natalie at that gathering. She looks rather dazed and confused. :)
Once we finished there, we headed to John's Dad's house. I did several projects as gifts for them. For John's brothers Alan and Seth, I made scrapbook pages of their mom and framed them. John's mother passed away a year and a half ago from cancer. She loved Christmas so much and especially enjoyed decorating her tree. I remember one year she had her tree up before Halloween. She was a very special lady and we all miss her so much. The glare is bad on this picture but the phrases say, "gentle" and "I will never forget." I forgot to take a picture of Alan's but it was generally the same, just different pictures and a different color scheme.
I also made another mini bag scrapbook for Marilyn (good friend of John's dad). They had taken a trip to Hawaii in November, so I used some pictures from their trip. Here are a few of the pages. This isn't the whole book because some of the pictures I took of it were SO blurry.
We spent the rest of the day over there with John's family. Below is Natalie with her Pa Pa Wright and her cousin Taylor. Look at that tree! I don't know what mode I had my camera in but it really lit the tree up!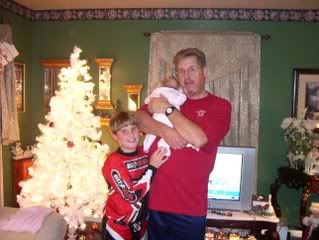 This concludes our days of Christmas. I hope all of you had a great Christmas. Happy New Year everyone!