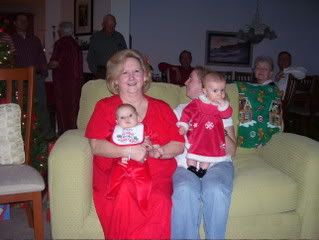 My Christmas recap continues.. On Christmas Eve we have a large family gathering with my PawPaw's side of the family. He has 4 siblings.. so we gather with them and all their children and grandchildren and now even great-grandchildren that live in the area. Just trying to do a quick count in my head and I think there were 25 of us. This year we had two new additions, Natalie and my cousin Crista's 7 month old, Julia. The whole family was very excited to have babies around this year.
We always play Dirty Santa, which is usually quite an interesting time, specifically because we have this statue of a little old man squatting like he's on the pot with his pants down, that comes back every year. This statue has been around for 30 plus years. So there's always some anticipation and fun as the gifts are opened and everyone tries to avoid the little man.
For the gift that I took, I made a mini scrapbook out of paper bags. I got this idea from
Telah
after seeing the Christmas one she made for her daughter's teacher. Here's how it turned out. The pictures are blurry, but you get the general idea. This is 3 regular brown lunch sacks, folded in half and covered and then embelished.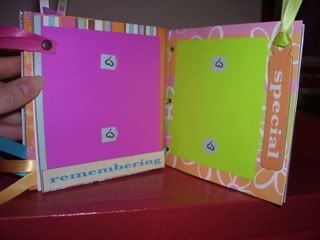 Here are some various other pictures from the night.
My Aunt and Uncle on the Left.. My Grandparents on the right.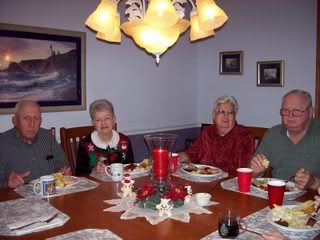 Table of cousins: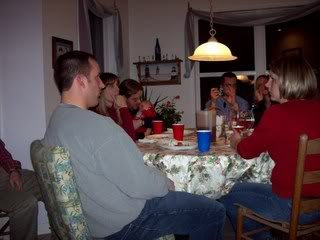 Julia and her Grandma Jan: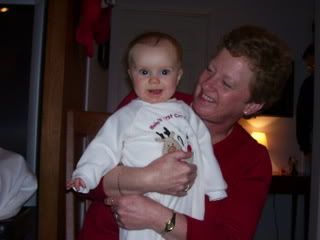 Andy Katie and Crista: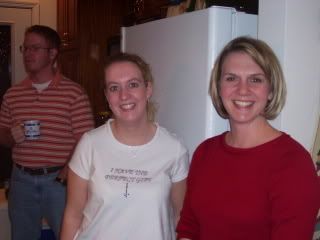 Look at all those desserts!