This entry is going to very hard to write, but I'm going to try my best to get through it because it's something I want to share.
A year ago this week was one of the most trying times of my life. For myself, my close family and friends and especially my husband. You see, John and I had been having trouble getting pregnant. I'd had some minor surgery and my Doctor had administered a medicine for endometriosis. The thing about this medicine is that I had a SEVERE reaction to it, a psychotic reaction to be exact. To put it in the simplest terms, I lost my sound mind. John describes some of the way I was acting to be like RAINMAN. Repeating things over and over again. Not making much sense. I had a very schizophrenic personality. Ok one minute, screaming the next. It was a very scary time and the thing was we didn't know how long it would last. The medicine wasn't a simple pill I could stop taking. It was an injection I had been given that would be in my system for about 45 days. After doing some research on the internet and reading stories of others that had had similar reactions, there was a slight possibility that I would never be the same again.
While a lot of it I don't remember, there are certain things I do. I can recall being so paranoid. I remember having the most irrational of thoughts. I even remember lying in bed having conversations with God and the Devil. It amazes me now to look back on some of what I remember and think that it made sense to me at the time.
After my 1st really bad episode, which required a 911 call, and an ambulance trip to the E.R., I had been given Ambien to try to help me sleep at night. It wasn't very successful and I can remember talking completely out of my head and being held by my husband as he tried to help me go to sleep. I remember him turning on a CD we have that plays the sound of the Ocean. At the time I didn't know what was going on, or why he was doing what he was doing. I remember looking at our ceiling fan, which was on; and in the dark with only the light of the CD player and our alarm clock, I thought those rotating arms were God's angels. I know John had to be so terrified because I was expressing these thoughts and it had to be a terrible thing to deal with because I was not mentally there. He told me to lay still and listen to our song. Our song? The sound of the Ocean is our song? You see, we didn't have an official "song" but we spent the days after our marriage at the Ocean. Our Honeymoon was spent in Gulf Shores and the waves crashing against the shore was the sound we heard when we went to sleep at night and woke up in the morning. It was a song that reminded him of how much we loved each other and why we married each other. A song of a peaceful time, a joyful time, a time when nothing else mattered except the love we had for each other.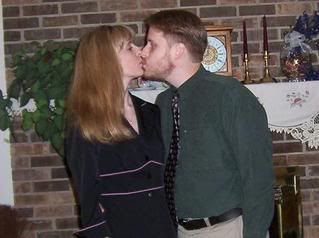 So I share this why? Because we should always count our blessings. Even when things are at their worst, remember to look at the big picture and know that our life here is very brief. To remember that ALL things work together for good for them that love the Lord. Be thankful for your husband or your wife who loves you, even though the two of you may be going through a hard time. Remember why you married each other in the first place. Be thankful for your extended family and your kids, and all the material blessings we have that most people in this world don't. And whether you do or do not have a spouse, or family or kids, don't ever forget that you do have a friend that will always be there for you if you want him to be. God gave us the gift of his Son so that we don't ever, ever have to be alone. And
IN HIM there are immeasurable blessings.

Count it ALL joy, whenever you face trials of many kinds, because we know that the testing of our faith produces endurance. Having endured, that you may be mature and complete, not lacking anything. James 1:2-4Side Note: Pictures in this post were taken Oct 2, 2005; Our 6th Anniversary; which was about 3 weeks into the 6 week ordeal with the medication. I was on 3 other medications to help me through that time. When the medicine had time to run it's course, I was able to come off of the other medicines also, and I thank God that it didn't have a permanent effect on my mind and personality.